Country Shore Camping Area Facilities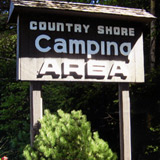 Our facilities will provide you and your family with a truly memorable and relaxing vacation or summer retreat. If you are a boater, our boat launch and dock facilities will accomodate both fishing and pleasure craft for easy access to our 306 acre lake. Combine this with a beautiful sandy beach for sunning and swimming and you will have "lakeside camping at its best."

Our spacious wooded campsites are clean and well groomed for your camping pleasure. The kids will spend hours at our playground or playing volleyball, softball, ping pong or basketball. Parents and young children will enjoy our Kiddie Play Area. The adults can join in or play some horseshoes or go fishing in the lake for that really big catch.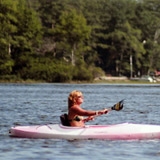 Activities
The proper blend of activities at any campground can only enhance a camping experience. Our campground has the perfect blend. Being on our beautiful lake will allow you to participate in your favorite water activties. Sailing, canoeing, water skiing, fishing derby (seasonals), swimming or sitting on our sandy beach in your favorite beach chair with your feet dangling in the water are all enjoyed at Country Shores.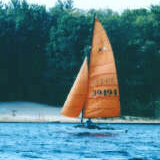 Bingo, adult and teen dances, karaoke, lip sync contests, pot luck suppers and more can all be enjoyed in our spacious and comfortable recreation hall. Be sure to join us in August for "Christmas in August", a fun time looked forward to by many of our campers. Our holiday weekend cookouts complete our well balanced activitiy schedule here at Country Shore Camping Area.